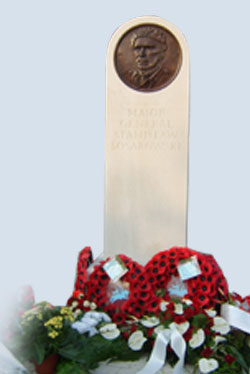 In February 2006 the "Sosabowski Memorial Fund" was launched by the veterans of the 1st British Airborne Devision and the Parachute Regiment Association to erect a Memorial to General Sosabowski and his 1st Polish Independent parachute Brigade.
The Memorial consist of a bronze plaque with a bas relief head and shoulders of Major General Stanislaw Sosabowski designed and cast by the famous sculpter, Vivian Mallock.
It is mounted on a plinth of Portland stone, to stand in the Polish Square in Driel as a permanent testament of the admiration and gratitude which we hold fot Major General Sosabowski and for our gallant Polish comrades-in-arm without whose courage and fighting spirit, the remnants of the 1st Britsh Airborne Division could not have escaped
The Memorial was unveiled on Saterday 16.9.06 in the Polish Square in Driel and as befitting such an important occasion, the sun shone on the righteous and is was estimated over 1000 attended.
In addition to the representative of the Queen of the Netherlands there were Ambassadors, Senior Serving Officers and representatives from Poland, the Netherlands and the UK.
At 3.15PM Sir Brian Urquhart gave a short speech explaining the purpose of the Memorial and invited Dr Hal Sosabowski to unveil it.
Dr. Sosabowski stepped forwards, cut loose the Polish flag in which the Memorial was covered and drew it away.
This was followed by the laying ofwreaths by the Sosabowski family, Sir Brian Urquhart, Britsh veterans and many others.
Sculptor: Vivian Mallock