New plague and display case in Driel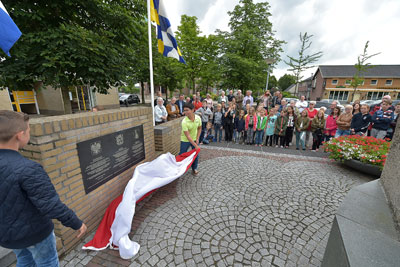 A new plague was unveiled at the Poland Monument in Driel on Friday 17th June 2016. The plague depicts a description of the meaning of the 1961 monument. It also includes the fact that the monument was offered by the Driel population and has been adopted by Driel's young people. This is why the unveiling was done by students from the two Driel primary schools, the Kameleon and the Meeuwenberg.
The place where the new plague is now on display used to be home to a plague from the first 1946 monument. The Stichting Driel-Polen has removed this seventy year old plague in order to preserve it and has given it a new home in the Information Centre: The Poles of Driel's new display case, which can be found at the back of the village's Catholic Church and which can be visited for free.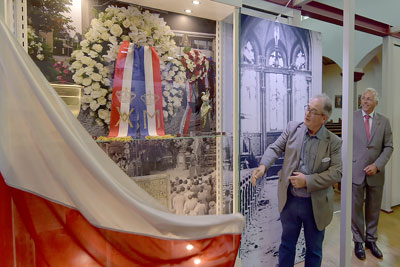 The purchase of the display case was made possible by the Rabobank Fund. A white-red apron and scarf are also on display alongside the old plague in this display case, which used to be worn by Driel's school children in the past during the commemorations. The display case also includes objects which serve as a reminder of the commemoration service for Operation Market Garden's 70th anniversary in 2014, including the ribbons of the wreath laid in Driel by King Willem-Alexander.