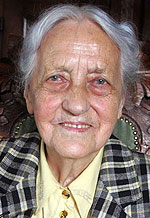 1912-2005, social worker
Cornelia Wilhelmina Maria Baltussen was born in Driel (Over-Betuwe) on 19 January 1912. She was the daughter of Arnoldus Johannes Baltussen (Driel, 3 February 1871- Driel, 19 October 1943) and Catharina Wilhelmina van der Horst (Cothen, 18 September 1880 – Driel, 20 January 1968). Cora Baltussen, who did not marry, died in Heelsum on 18 November 2005.
Cora Baltussen grew up in Driel in a large family of fifteen children, seven sons and eight daughters. She was the seventh child. Her father, the owner of a jam and preserved foods factory, was one of the town dignitaries and her mother took care of the large family. Cora's earliest childhood years coincided with the First World War.
One of her first memories was that of a group of Belgian refugees walking from the train station in Elst to the primary school in Driel that had been requisitioned for them. The intense desolation of that group of refugees made a deep impression on Cora, then just six years old, and sowed the seeds for her future social involvement.
The Baltussen family was Catholic and, since there was no Catholic school in Driel, Cora and her older siblings went to school in Lent. During the week, they stayed at Huize St. Jozef under the care of the Sisters of Providence. After finishing primary school, Cora went to the ULO, a school for advanced primary education.
This school was run by the same order of nuns in Steijl, a village near Venlo. After receiving her ULO diploma in 1928, Cora stayed at home to help her mother, just as her older sisters before her had done.
Cora's father, the determining factor in the family, stimulated all of his children, including his daughters, to continue their schooling or to learn a trade so that they would be able to earn a living. While still living at home, Cora earned a diploma as a seamstress in Arnhem and, together with two other inhabitants of Driel, she established the local branch of the Katholieke Jonge Vrouwen (KJV).[1] Social work and the emancipation of women were very important to her. Probably as a result of the courses she followed at the KJV, she began to train as an oblate with the Benedictine Sisters in Schoten, near Antwerp, in October 1932.
In this same period, she followed courses in social work in Brussels, where she worked with the church to help the poor, something she also later did in both London and Rome.
In 1939 she left the oblates and returned to the Netherlands, where friends helped her to find employment as a social worker for the personnel of a textile factory in Helmond. She remained in this position until September 1944, when the war brought an abrupt end to this situation.
On 17 September 1944, at the moment when the Allies began Operation  Market Garden, Cora was in Driel for her mother's birthday. There, on the other side of the Rhine, people had a good view of the gliders and parachutists landing on the heath between Renkum and Wolfheze. On 19 September, a British plane that had been shot down landed in the flood-meadows near Driel. Cora and one of her sisters and brothers, all of whom had just earned their first-aid diploma, were the first to reach the plane and lend assistance.
The wounded were carried by horse and wagon to the parish hall in Driel, which was temporarily being used as an aid station. Because of the evacuees already there, there was sufficient accommodation, and the wounded could be cared for. On 21 September, more than 1000 Polish parachutists from the 1st Polish Independent Parachutist Brigade under the command of Major General Stanislaw Sosabowski (1892-1967) landed in Driel, right in the middle of the German line of fire. Many of these parachutists landed close to Cora's parental home, which was located on the outskirts of the town centre. As a result, Cora quickly came into contact with Sosabowski himself. Because she spoke English well, she became the contact person between the Polish soldiers and the local inhabitants.
Together with other first-aid assistants, she cared for the many wounded in the parish hall. After landing, the Polish parachutists were supposed to cross the Rhine by the ferry at Driel, but, upon their arrival, they discovered that the ferry had disappeared. In the nights that followed, the Poles tried to cross the river to strengthen the forces of their comrades in Oosterbeek. Many of these soldiers were casualties in this attempt  by German shellfire. Cora and her colleagues spent three days and nights caring for all of the wounded.
On 26 September, the Battle of Arnhem ended in a loss for the Allied forces. Cora remained in Driel to care for the wounded until the town was evacuated at the beginning of October 1944. After wandering from place to place, Cora and her family finally found shelter with friends in Gemert.
After the liberation of the Netherlands, Cora Baltussen joined the Red Cross in April-May 1945 and until 1948 she worked with this organisation in its efforts to help returning evacuees and to contribute to the post-war reconstruction efforts in the Netherlands. She first worked in Oosterhout, where she was involved in the programme of activities known as 'Herstel Betuwe' (Repair the Betuwe) and then she worked in Utrecht, where she was responsible for safeguarding the city's food supplies. In 1948 she travelled with the Red Cross to the United States, where she devoted several months to organising the shipment of goods to Europe. The Red Cross then sent her to Germany, where she worked in camps for homeless children.
Despite these lengthy stays abroad, Cora did not hesitate to follow the example of her father and one of her brothers when, in September 1946, she ran as a candidate for and was elected to the post of councillor for the KVP[2] in Heteren, the municipality to which Driel belonged. When she decided not to run for re-election in August 1949, the mayor was quick to mention Cora's frequent absences, a remark that Cora fully understood.
In 1950 Baltussen returned to the Netherlands. She began studying psychology in Nijmegen and satisfied all of the requirements for her 'kandidaats' examination.[3] In 1953 she was awarded a United Nations scholarship that allowed her to return to the United States to study social case work there for the Ministry of Social Work. The results of her study were written up in English and published by this same Ministry. In 1955 she was asked to establish a Study Centre for Social Work in Nijmegen; she herself remained director of this Centre until 1962.
The purpose of the Centre, a Catholic initiative, was to enhance the professionalism of those involved in Catholic social work. As such it was the predecessor of the advanced training programmes in social work and social and cultural welfare work.
From 1962 until her retirement in 1975, Cora Baltussen did similar work in Germany in the dioceses of Munster and Cologne. She taught courses to and supervised groups of social case workers and thus helped in the transition of these activities from ecclesiastical to civil organisations. Despite working in Germany, she continued to live in the Netherlands, first in Driel and later in Nijmegen after the death of her mother in 1968.
In addition to her regular work, Baltussen had taken on another task, one that would inadvertently become her life's work: the rehabilitation of the Polish brigade that had fought in 1944. In the fighting, 98 soldiers of the Polish brigade had been killed, and many others had been wounded or taken prisoner. Nevertheless, after the battle the British military command claimed that the Poles had fought poorly and had been insufficiently prepared for battle.
Baltussen was so indignant about this that, immediately after the Netherlands had been liberated, she began to campaign to restore the honour of the Polish soldiers. Partly due to her initiative, the Committee Driel-Poland was established. The soldiers who had fallen in battle were first buried in the cemetery in Driel and later reburied in the cemetery in Oosterbeek, where their graves were adopted by the inhabitants of Driel.
In September 1946, a temporary monument was erected in Driel in their honour; this was replaced by the present monument in 1961. There is still contact with the old veterans, who considered Cora Baltussen to be the 'mother of the brigade'.
However, for decades Baltussen and the Committee received little attention for their cause. A letter dated 13 December 1946 in which Queen Wilhelmina approved of a number of these Polish soldiers being decorated for their bravery was soon forgotten. A letter that Baltussen wrote to Queen Juliana in 1961 in which she requested that the soldiers receive the promised royal honour was set aside by the Ministry of Defence, which considered it to be a political matter.
Even after the Cold War had ended in 1989 and relations with Poland had improved, the Dutch government persisted in its refusal on official grounds and claimed that the government had decided in 1952 that no one else could be decorated for 'deeds performed in the war'. It was not until sixty years after the Battle of Arnhem and only after the efforts of the television journalist Geertjan Lassche and Prince Bernhard that the government altered its position.
Queen Wilhelmina's letter of 1946 was referred to again in 2004.
On 9 December 2005, three weeks after Cora Baltussen's death, the government announced that, in recognition of its courage, the Polish brigade would be awarded the Military Order of William I, the highest Dutch military honour. On 31 May 2006, Queen Beatrix awarded the decoration and the rehabilitation of the Polish soldiers became official. In addition, on that same day Sosabowski was posthumously awarded the Bronze Lion.
Cora Baltussen was also active in other areas after her retirement. She could not sit still. She took a deep interest in the Islam and studied Arabic at Nijmegen University. She loved cooking and enjoyed hosting dinners and conversational evenings for young people. She remained living in Nijmegen until November 2004 when she moved to a service flat in Heelsum, where she spent the last years of her life. Although still mentally alert, she felt that she had lived long enough and that death should take her soon. Being very religious, she was fully convinced that 'her chair was waiting for her' in heaven. Cora Baltussen died on 18 November 2005 at the age of 93 and was buried in Driel.
Reflecting on Cora Baltussen's life and her work, we can say that she was successfully active in a number of areas both at home and abroad. Her untiring efforts on behalf of the Polish brigade won her the most recognition, but as a result of her activities in her own profession she was highly respected as one of the people who helped bring innovations to social work.
During her lifetime she was awarded a number of honours by both the Red Cross and the Polish government, receiving the highest decoration for foreigners from the latter.
Cora Baltussen must have been a remarkable and an intriguing woman, precisely because she managed to combine and exploit those traits that seldom seem to be able to coexist in an individual. On the one hand, she was very socially oriented and helpful. She was quick to make contacts and moved with ease everywhere, whether in Driel or abroad during one of her many trips. She was very enthusiastic and enterprising and she was able to stimulate others and bind them to her. On the other hand, she was quite closed about her own person and activities.
She found other people more interesting than herself. Furthermore, she was a dominant, self-willed, stubborn and uncompromising woman who preferred to do things her own way. She was the most comfortable in her roles of pioneer and initiator. She found it difficult to work with others and was annoyed by strict rules and structures. In addition, she was a courageous woman with a strong sense of honour, both during the war that had shaped her and so many of her generation and in many post-war situations.
Her life's lesson for her nephews and nieces – 'always stand tall' – was something she herself practiced. The fact that the courageous actions of the Polish soldiers in the Battle of Arnhem and their share in liberating a foreign country was not ignored or forgotten by that same country is especially thanks to Cora Baltussen's efforts.
The sense of justice of just one person can indeed make a difference.
A.M.A.J. Driessen
Report:
Final report. Studies carried out on January 5 1953 to June 30 1954 in the United States of America in the context of the "United Nations Social Welfare Scholarships Programme" about the subject Social Casework Methods and Methods of Supervision, z.p., z.j., Ministry of Social Work (Community Development Department), Series A No 29
Literature:
– Middlebrook, Martin, Arnhem 1944 – The Airborne Battle, 17-26 September, London, 1994
– Ryan, Cornelius, A Bridge Too Far, London, 1974, passim
Sources:
– TV-documentary God Bless Montgomery
– The Forgotten Poles in the Battle of Arnhem, September 16, 2004. The program was created for the Evangelical Broadcasting (EO) by journalist Geertjan Lassche, Menno Mennes cameraman, soundman Jan Smelik and chief editor Jan Kriek
– Driel-Poland Foundation
---
[1] *This was a club for young women between the ages of sixteen and twenty-four that gave them the opportunity to meet weekly for festivities, courses, amateur theatre, sports, etc.
[2] The Catholic People's Party, which merged into the Christian Democratic Appel (CDA) in 1980.
[3] This was part of the system prior to 1986. University students pursuing initial degrees had to meet all of the requirements for the kandidaats before they were allowed to go on to complete their degree (doctoraal).