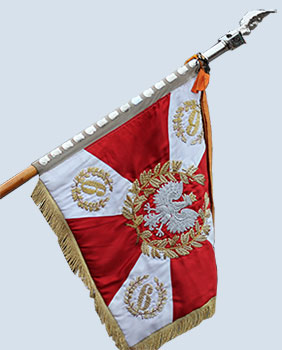 On 3rd November 1942 the standard of the 1st Independent Parachute Brigade was consecrated in Warsaw´s Canon Church in occupied Warsaw. This standard was presented as a gift from Warsaw´s inhabitants.
The initiative came from Colonel Sosabowski who thought it appropriate that the standard of the Brigade should be made in occupied Warsaw. Captain Macicj Kalenkiewicz took along with him the provisional draft of the colours to Warsaw.
In a secret ceremony on 3rd November 1942 the colours were consecrated in the church of the Canon´s Sisters. During the ceremony the church was guarded by soldiers of the Domestic Forces.
On 15th June 1944, the 1st Polish Independent Parachute Brigade received the Standard which had been brought from occupied Poland to England. The ceremony took place in Cupar / Fifeshire in Scotland. After the Holy Mass, the Polish Delegate read out the 'Deed of conveyance of the Standard' and presented the Standard to the President of the PolishRepublic in exile.
Then Major-General Sosabowski, kneeling down, received the standard, kissed it and presented it to the colour guard. Then the colour guard marched past the front of the Brigade, which stood lined up. The ceremony ended with a March past.