Annual commemoration and Covid-19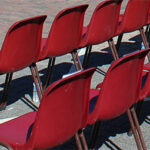 Covid-19 has changed the world and every day we are made aware of the effects it has on our life, our expectations and our future. Many questions have to be answered, but one thing is certain: we all see it as our task, duty and obligation to maintain the annual commemoration now and in the future. Rest assured:  We will continue to Remember!!
In relations to the Covid-19 regulations this year's commemorations will be minimized, side events cancelled, no paradrops and no social gatherings. In case you would consider attending we strongly advise you to stay home. As much as we feel terrible suggesting this for the first time in 76 years, the burgomasters of the Airborne municipalities as well our foundation do not want you, your family and others to take the risk this journey might bring.
Instead there will be a (live) registration of the commemoration which is scheduled for Saturday 19th September 3pm. Currently we don't know the details. Information will follow in September latest a week before the commemoration.
The information of the commemorations and (live) registration for Driel and the other Airborne municipalities will be included in the information we will be communicating via our website and Facebook at the beginning of September.
Meanwhile please stay safe and healthy and we hope to see you next year at the 77th commemoration of Operation Market Garden.