Address by the Chairman of the Foundation Driel-Polen Mr. A.J.M. Baltussen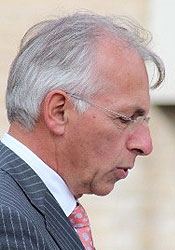 at the Commemoration of the contribution of the
1st Polish Independent Parachute Brigade
to Operation Market Garden, 71 years ago
Driel, 19 September 2015
Ladies & Gentlemen
On behalf of the Driel-Polen Foundation I would like to welcome you all to this commemoration, where we give special attention to the contribution of the 1st Polish Independent Parachute Brigade to Operation Market Garden – 71 years ago.
A special word of welcome to
The 4 Polish Veterans, who could make the way to Driel from their home in Great Britain, Mr. Lenc, Mr. Kubinski, Mr. Stazkiewicz and Mr. Wojciechowski
also to the widows of Polish veterans living in the Netherlands.
The Ambassador of the Republic of Poland in the Kingdom of the Netherlands His Excellency Dr. Borkowski
The Ambassadors of Great Britain H.E. Sir Adams and from Canada H.E. Mrs. Nölke and the representatives from the United States of America
The King's Commissioner of our province Mr. Cornielje
Mr. Wasilewski and other delegation members from the province of Lubelski and General Schossler and other delegation members of Polish Police officers
Brigade General Joks and other members from the 6th Airborne Brigade
Lt. Gen. Lorimer and other members of the Para Regiment and Kolonel Van Eijl on behalf of the Commander of the Dutch Army Forces
The Burgomaster of this municipality Mr. Van Asseldonk and his partner Mr. Diepeveen
The representative of the Sosabowski family Mr. Jeremy Sosabowski and his mother Mrs. Tomczyk Sosabowska
The representative of the British veterans Staff Sgt. Laurie Weeden
Monsignor Hoogenboom representing the Roman Catholic diocese Utrecht
The Burgomasters of the partner municipalities of Overbetuwe
Mr. Wernard from Usingen in Germany
Mr. Bergmann from Zulpich in Germany
and from Boleszkowice in Poland Mr. Krzywicki
All the British veterans present this afternoon
Ladies and gentlemen, boys and girls,
I would also like to extend a very warm welcome to you this afternoon, when we will be commemorating the 1st Polish Independent Parachutists Brigade's contribution to Operation Market Garden, 71 years ago.
Boys and girls from the choir and the football club. How truly fantastic you can all be here again this afternoon to represent your clubs and to sing and help us during the wreath laying.
We remember this occasion because Polish soldiers landed near Driel 71 years ago, not far from here, in order to fight the enemy which was occupying our country back then on behalf of our parents and/or grandparents. They therefore contributed to the freedom we are now allowed to experience every single day.
These Polish parachutists had either escaped their country or had been ousted to other countries at the beginning of that war. They very much wanted to return to their own country at the end of the war. However, this return wasn't possible for most of these soldiers, as they wouldn't have been welcomed back with open arms.
Most of these Polish soldiers ended up living and rebuilding their lives in other countries after the war.
You will undoubtedly have seen the horrendous images of the many refugees trying to make their way into Europe every day on television. Just like the Polish parachutists and their families approximately 75 years ago, these people are also fleeing war zones, or have been chased out of their village or town.
These are the kind of events we want to think about during our commemoration service. We do this because it's incredibly important to realise that the freedom we are lucky enough to enjoy by no means simply happened. We must acknowledge that other people fought for our freedom and are still doing so today. Even risking their own lives. Both in the past and today.
We all think it's very special you'll be singing 2 songs in Polish this afternoon, especially for these veterans. What makes it even more special is that you'll be accompanied by your peers from Poland.
Good luck!!
For a number of years now, young people from the Airborne International Youth Conference read a poem during this commemoration.
For the announcements in Polish this year I will be accompanied by Pamela Lukaszewicz
We are very grateful for the help of these youngsters.
The youth choir, accompanied by the orchestra with peers from Krakow – Promyki Krakowa, will shortly be singing for us
"Pienkna nasza Polska cała" in Polish, which can be translated as "our beautiful Poland".