Chairman foundation Driel-Polen: Mr. A.J.M. Baltussen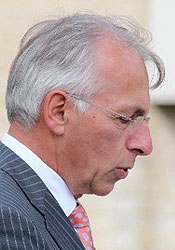 Panie i Panowie, Ladies & Gentlemen, Dames & Heren,
On behalf of the Driel-Poland Foundation I would like to welcome you all to this commemoration, where we give special attention to the contribution made by the 1st Polish Independent Parachute Brigade to the Battle of Arnhem – 69 years ago.
A special word of welcome to:
the 7 Polish Veterans, who were able to make their way to Driel from their homes in Poland, Great Britain, Canada, USA and the Netherlands and Mr Ford, a pilot who dropped several of the veterans near Driel;
also to the widows of Polish veterans from Poland, Canada and the Netherlands;
the Ambassador of the Republic of Poland in the Kingdom of the Netherlands His Excellency Dr Borkowski
the Ambassador of Great Britain and representatives from the United States of America and Canada;
the King's Commissioner of our province, Mr Cornielje;
the Marshall of the province of Lubielski, Mr Hetman;
the Mayor of this municipality, Mr. van Asseldonk;
the Representative of Brigadier General S.F. Sosabowski's 6th Airborne Brigade, Brigadier General Joks;
the representative of the Sosabowski family, Mr Jeremy Sosabowski and his mother Mrs. Tomczyk Sosabowska;
the representative of the British veterans, Staff Sergeant Laurie Weeden;
the Mayors of Overbetuwe's partner municipalities:
mr Wernard from Usingen in Germany,
Mr Bergmann from Zulpich in Germany,
and from Boleszkowice in Poland represented by Mrs. Elzbieta Dawid
last but not least, a special welcome to all of the British veterans present this afternoon.
Boys and girls.
We would also like to welcome you this afternoon, as we pay respect to the contribution made by the 1st Polish Independent Parachute Brigade to the Battle of Arnhem, 69 years ago.
Young people have played an important role in the commemorations, from the very first commemoration in 1946. I have just said a few words to them and wished them good luck, as they will be singing for us shortly, accompanied by their peers from Poland.
This year's theme for the national commemoration of the end of World War 2 is, "Freedom is what you agree" – a theme to keep in our minds.
For a number of years now, young people from the Airborne International Youth Conference have read a poem, and one of these youngsters will assist us with reading the Polish texts. We are very grateful for this help. This year the Polish texts will be read by Agnieska Kwiatkowska