Ambassador of the Republic of Poland, Dr Jan Borkowski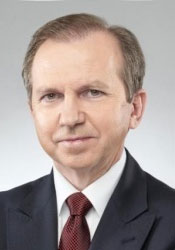 Dear Veterans, Mister Mayor, Excellencies, Ladies and Gentlemen,
Today we are celebrating the sixty-ninth anniversary of the Battle of Arnhem. We are here to pay tribute to the liberators, to general Sosabowski and his troops. I salute the Sosabowski soldiers and all the Second World War veterans present with us today.
It is encouraging to see the new generations who cherish the memory of General Sosabowski and his soldiers, and who remember the heroism of the Polish paratroopers and the dedication of the Dutch civilians. The bonds that were then established have evolved into Polish-Dutch friendship. Between ordinary people and between the two states. That is why participation in today's ceremony gives me such a great satisfaction.
Dear Veterans,
The First Independent Parachute Brigade commanded by General Sosabowski has a deservedly proud place in the history of the Polish armed forces. I pay tribute to you for your unsurpassed courage, patriotism and determination. You went into mortal combat to give us all peace and democracy.
Dear Dutch Friends,
I also pay tribute to the citizens of Driel and other towns where Poles have fought. Special appreciation is due to all those who have cultivated the memory of General Sosabowski's soldiers in the Netherlands. It is thanks to you, dear friends, that today I am able to bow my head before the flag with the orange sash of the Military Order of King William, in honor of the heroes of Arnhem and other Dutch battlefields and in gratitude to the inhabitants of this land, who have persistently campaigned for memory and truth. It is thanks to you that the General has been justly honored. It is a great nation that cherishes memory and justice.
Poles have fought "for your freedom and ours". You responded with heartfelt gratitude and unflinching memory. I thank you for this on behalf of the Polish Government and the people of Poland.
Dear All,
The third generation of those who live in peace and prosperity is entering adult life. They do not know war, happily not. But they see and observe, on the Sosabowski example, how the fates of the European nations are intertwined. And how Europeans can help and complement each other. It is of crucial importance today, when so many people, so many Poles and so many Dutch, travel and settle throughout Europe, that the young generation is kept immunized against chauvinism and xenophobia. Especially in this country which is traditionally so tolerant. So that they may remember that as we fought together successfully, now we can successfully live and work together, in unified Europe.
Next year we will celebrate the seventieth anniversary of the Battle of Arnhem. I hope that we can turn it into a festivity of European solidarity. Of open, borderless and tolerant Europe. Europe which is not afraid and which does not fight, but takes its strength from cooperation.
Thank you for your attention.