Chairman foundation Driel-Polen: Mr. A.J.M. Baltussen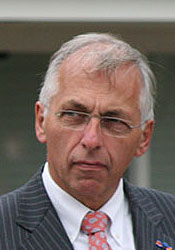 On behalf of the Driel-Polen Foundation I would like to welcome you all to this commemoration, where we give special attention to the contribution of the 1st Polish Independent Parachute Brigade to the Battle of Arnhem – 67 years ago.
A special word of welcome to
The 8 Polish Veterans, who could make the way to Driel from their home in Great Britain, USA and the Netherlands and Mr. Ford a pilot who dropped several of the veterans near Driel.
also to the widows of a Polish veterans one of whom has come from Poland and three from the Netherlands
The Ambassador of the Republic of Poland His Excellency Mr. Stańczyk
The Ambassador of Great Britain and representatives from the United States of America and Canada
The Queen's Commissioner of our province Mr. Cornielje
The Mayoress of this municipality Mrs. Tuijnman
The Representative of the Brig. Gen. S.F. Sosabowski's 6 Airborne Brigade – Colonel Piekarski
The representative of the Sosabowski family Mr. Jeremy Sosabowski and his partner Bettina Beinhoff
George Cholewczynski, author of several books related to general Sosabowski and his Brigade
The representative of the British veterans Captain Wilkinson
The Mayors of the partner municipalities of Overbetuwe in Germany as well as Poland Mr. Wernard from Usingen in Germany and Mr. Bergmann from Zulpich in Germany and from Boleszkowice in Poland Mr. Krzywicki
All the British veterans present this afternoon
Ladies and gentlemen, boys and girls,
I would hereby like to extend a very warm welcome to all of you on this afternoon when we are going to take some time out to remember how the 1st Polish Independent Parachutists Brigade contributed to the Battle of Arnhem, 67 years ago. I would like to say a special hello to the boys and girls in the choir. You'll be singing 2 Polish and 1 Dutch song for us together with the Promiky Krakowa group.
Since our last commemoration many veterans and friends from the Airborne community have passed away. We also have had to bid farewell to our long-time secretary, Luit Veenhuizen.
The Polish veterans present here all have one thing in common. They were all members of the 1st Polish Independent Parachutists Brigade. However, they all have different stories to tell in relation to how they came to join this brigade.
Many families were deported to Northern Russia, mostly Siberia, after Poland was occupied in 1939.
They were given the option to either return in 1941, or to join the Polish army. Many of the young people didn't stay with their parents at that time, but ended up in the UK via the former Persia, North African countries, Italy, France or in some cases by boat via North or South America. All with exactly the same aim: to free their country.
Unfortunately they didn't quite achieve this in 1944.
The brigade became part of the First British Airborne Division and, as part of the plans, was dropped along the edge of this beautiful village of Driel on 21st September.
These stories and the efforts by the brave 1st Polish Independent Parachutists Brigade soldiers make it absolutely essential for us to continue to remember them and to pass on the importance of this to subsequent generations.
This is why our village has squares and a street with names which will remind us of these days in 1944. This monument and the memorial appeal for General Sosabowski have taken up a prominent place.
They will serve as a daily reminder why Poland and the village of Driel are "linked through friendship and thankfulness" once the veterans can no longer be represented here.
Young people have always played an important role during the commemorations in Driel, right from the very first one in 1946.
Young people from the Airborne International Youth Conference have been reciting poems for a few years now and one of these young people has been assisting us with the reading of some Polish texts since last year. This year Konrad Stepnik will assist us in reading out the Polish texts. A collaboration which we hope will last for many years to come.
We have been lucky enough to welcome the youth choir, consisting of children from Driel's 3 primary schools, for quite a few years now. They have been musically accompanied by the orchestra with peers from Krakau – Promyki Krakowa.
They will soon be singing "Pienkna nasza Polska cala" for us in Polish, which can translated as "our beautiful Poland".