Prime-minister of the Republic of Poland: H.E. D.F. Tusk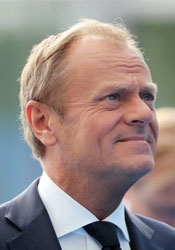 Mr Prime Minister,
Mr Secretary of State for Defence,
Mr Queen's Commissioner,
Madam Mayor, Excellencies,
Honourable Veterans,
Members of the family of General Sosabowski
Members of the family of Cora Baltussen,
Ladies and Gentlemen,
Goedendag, ik ben blij bij Nederlandse vrienden te zijn (Goodafternoon, I am very happy to be with Dutch friends)
It was less than three weeks ago, when I spoke at Westerplatte in Gdańsk where the Second World War broke out 70 years ago. In the presence of many European politicians, including Prime Minister Balkenende, I said then that the memory of that war and its aftermath, of its crimes and heroism may provide the most effective shield against a threat of another war. Indeed, only by remembering we can build a mature sense of common responsibility never to allow a tragedy like that to be repeated. We can only abandon war and evil in the name of which it was unleashed because we still remember it.
Polish soldiers fought on nearly all fronts of the Second World War, but not everywhere the memory of their effort has survived and remained so alive as here, in Driel, Arnhem, Axel and Breda. You remembered and venerated them even when Poles themselves were unable to do so, subjugated by Communism. By maintaining and nourishing that memory you have become true builders of a peaceful European order.
Today, when on the site of the heroic sacrifice of Polish soldiers we are honouring General Sosabowski and his soldiers of the 1st Independent Parachute Brigade, I wish to express gratitude to All of You, who have kept them in your memory. Allow me to remember the late Mrs. Cora Baltussen, the founder of the Driel-Polen Foundation, who could never forget the words uttered by a Polish soldier dying in her arms: "All men are brothers".
Mr Prime Minister,
Ladies and Gentlemen,
This meeting today, for which I thank you, is yet another step along the path of our memory. I am confident that it is leading us to a time when all rifle fire that Europe will hear will be salute fire.
I would like to address a few words to the veterans. When we were introduced to you just before this commemoration, you had tears in your eyes. You don't need to hide for these tears. Heroes don't need to be ashamed for their tears.
You are heroes from the Netherlands and from Poland.
Dank u wel Nederland (Thanks you Netherlands)